🎁 HOW TO KEEP YOUR CATS SAFE DURING THE HOLIDAYS 🎄
Posted by TAMAE ISHII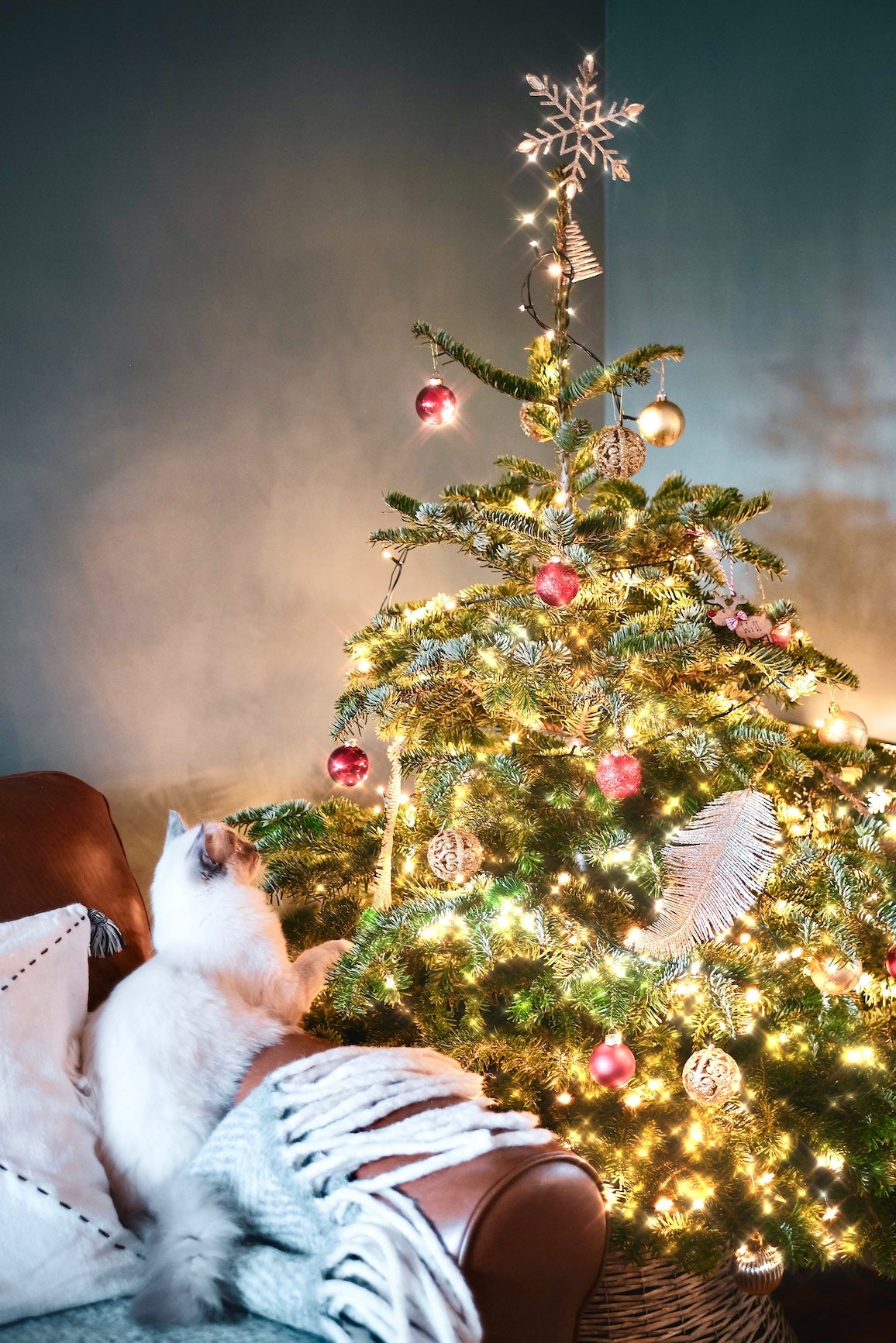 This post may contain affiliate links, which means Privé Pet will receive a small commission if you purchase through the link, at no extra cost to you. Please read the full disclosure here
Christmas, and the holidays in general, are some of the happiest times we have during the year.  A time to spend quality time with family, friends, and of course your beloved pets.  However, it can also be a dangerous time, especially for our curious cats, so here are some tips on how to keep your cats safe during the holidays and every day.
For cat owners in particular, Christmas may be a challenging time of the year due to the fascinating nature of a bedazzling Christmas tree, with all of its twinkling lights, shiny round ornaments, and of course the tree itself which cats can't seem to resist climbing.  

If you have a particularly curious or adventurous cat like the Bengal or Siamese, you may have even experienced your kitty knocking over the entire tree, leading to the shattering of glass ornaments and a huge mess in your home.  
Avoid these mishaps with a few simple tips to keep your kitty safe and your family happy.  Here are 8 tips to keep your cat healthy and happy during the holidays!
Opt for an artificial tree, preferably with no flocking as flocking can be toxic if consumed by your kitty. 

This

 one has been great for my Persian kitty. 
If you decide to go with a live tree, consider a "non-drop" tree variety such as the Nordmann fir or make sure to pick up any pine needles that may have shed immediately. Pine needles in particular are toxic to cats and can cause liver failure if ingested.  Pine, fir, and spruce trees all have extremely sharp needles which can also cause severe punctures in the esophagus, stomach, and intestines leading to severe illness which could require surgery.
Whether you get an artificial or live tree, you should use sandbags or some other type of weight to keep the tree steady should your kitty decide to climb up the trunk.  To make things extra secure, some people use a hook and wires to anchor the tree from the ceiling. 
When using a live tree, do not add additives that prolong the life of the tree to the water.  Harmful fertilizers as well as bacteria from stagnant water can also harm your pet if ingested so make sure to use a tree skirt or collar to keep your cats out of the water.
Skip the tinsel.  Tinsel and other stringy objects like garlands on your tree can be ingested by your curious kitty and cause intestinal blockages and even an intestinal perforation if the tinsel gets tangled inside the intestines!
Stick to shatterproof plastic ornaments if you know your kitty is going to get into mischief with the tree.  Shattered glass ornaments cause a myriad of serious issues such as mouth and intestinal lacerations, blindness if a glass shard gets into their eyes, intestinal blockages and perforations that require surgery. 
Be careful with the Christmas lights.  Cats that like to chew on electrical cords is at risk for electrocution, burns, and heart arrhythmias from chewing on the Christmas lights.  As a precaution, you could opt for battery operated lights to reduce the risk of electrical shock.
Keep lit candles out of reach or use battery operated flickering candles like these.  Lit candles not only emit toxic fumes/smoke into your environment which is bad for both you and your kitty, a lit candle can also burn your cat's fur should your kitty walk past an unattended candle and accidentally flick their floofy tails by the flame.
Other dangerous holiday plants include:
Mistletoe & Holly

Poinsettias

Amaryllis
Pine
Balsam
Cedar
Toxic holiday foods include:
Chocolate, especially dark chocolate which contains large amounts of theobromine which can cause seizures, vomiting, and death.

Sugar-free treats containing xylitol

Fatty foods such as fatty meats and skin, cheese, butter, etc. can cause severe pancreatitis which requires hospitalization

Grapes & raisins found in holiday fruitcakes and cookies can lead to acute kidney failure

Onions, garlic, and chives are all toxic to cats and cause anemia

Alcohol can cause liver failure

Poultry and other bones can cause intestinal blockages and perforations
As you can see, there are plenty of things to be cautious about with your kitties every holiday season, but being aware of the dangers and taking precautions will always help keep the holidays safe and joyous for everyone, including your fur family!  Happy holidays everyone!
If you feel that your cat may have ingested something that is toxic, keep your closest 24 hour emergency vet's contact information on hand.  You can also call the ASPCA Animal Poison Control Center at 888-ANI-HELP or 888-426-4435 for advice. 
Reviews (1 comment) Collection 2019 Sale 70% Off Title for image