WHO WILL CARE FOR QUEEN ELIZABETH II'S BELOVED CORGIS?👸🏻
Posted by TAMAE ISHII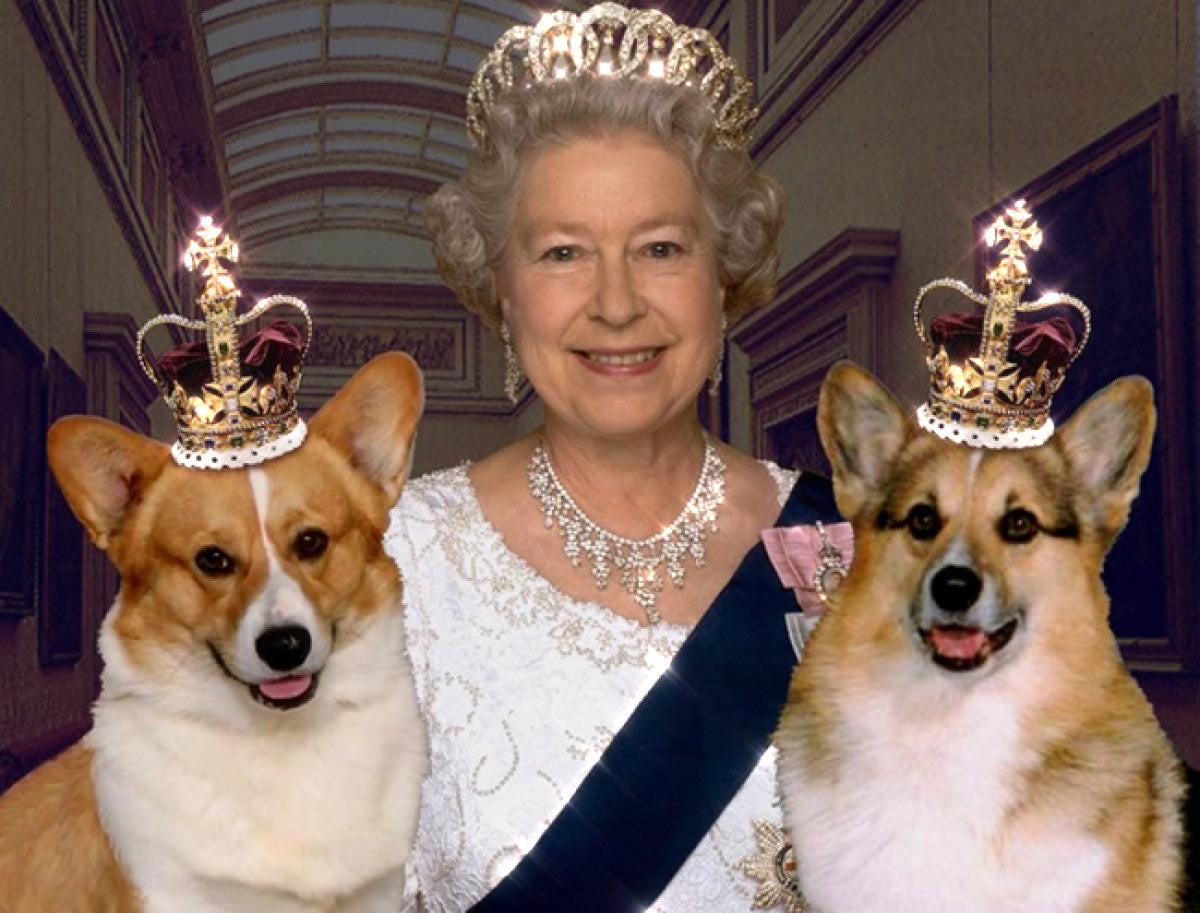 Following the passing of the beloved dog lover and dog mom, Her Majesty Queen Elizabeth II, on September 8, 2022, many royal watchers around the world have been asking who will care for the Queen's cherished corgis, Muick & Sandy.
Fortunately, the Duke and Duchess of York, Prince Andrew and Sarah Ferguson, the Queen's second oldest son and King Charles III's younger brother, along with his ex-wife Sarah, Duchess of York, have confirmed that they will be taking care of the charming Welsh Pembroke corgis at The Royal Lodge, situated on the Queen's cherished Windsor estate.
The Queen with her dogs Willow, Vulcan, Candy, and Holly at Windsor Castle
The Queen also had two other dogs named Lissy a cocker spaniel as well as Candy a dorgi which is a mix between a dachshund and a corgi, a breed that Queen Elizabeth II herself is credited with creating when her younger sister Princess Margaret's dachshund Pipkin accidentally mated with one of the Queen's corgis named Tiny.  At this time, we are not yet aware of who will be looking after her other two dogs Lissy and Candy.
Queen Elizabeth with her dorgi Candy at Windsor Castle
An avid animal lover since early childhood, the young Princess Elizabeth always surrounded herself with many dogs and horses.  In 1952, when Queen Elizabeth ascended to the throne, her father King George VI left her his beloved racehorses and the Queen was actively involved in horse racing as well as horse breeding.  Often seen at the horse races cheering on the jockey's who wore her famous racing silks, a scarlet and purple jacket with a black cap and gold braiding will now be worn by the jockeys who will now race in King Charles III's name.
Princess Elizabeth with her first two corgis Dookie and Jane 
One of the most poignant aspects of the Queen's state funeral was when we spotted Emma, the Queen's favorite fell pony whom she continued to ride into her nineties stood stoically on the grounds of Windsor Castle.
On her saddle was her Majesty's silk Hermès head-scarf that she often wore while riding her pony draped on it's saddle. 
Another heart breaking scene was when we saw her two corgis Muick and Sandy awaiting the Queen's funeral cortege, blissfully unaware that their beloved master would not be coming home that evening.
At Privé Pet, we mourn the passing of this gracious and dignified monarch, an unwavering, calming presence during times of uncertainty, and a sovereign who was so devoted to her pets as well as her kingdom and her people.  Rest in peace Ma'am.  
Queen Elizabeth II ruled for 70 years, the longest reigning female monarch in history
Queen Elizabeth II was so devoted to her dogs that one accompanied her on her honeymoon
Reunited at last with her beloved parents King George VI, Elizabeth, her younger sister Princess Margaret and her devoted husband Prince Philip Collection 2019 Sale 70% Off Title for image